Content creation has become a very popular career option among the younger generation. Many fans dream of following in the footsteps of their role models, such as MrBeast, PewDiePie, Ninja, Shroud and others. Among all online creators, PewDiePie is the most popular and well-known creator due to his achievements.
ADVERTISING
The article continues below this ad
He is the only individual creator to surpass 100 million subscribers on YouTube. His fans adore his humor and kindness, which he demonstrates by donating to several charitable events.
Since Felix is ​​so popular in the community, some of his fans are always excited to learn more about his personal life. Recently, Felix himself revealed his workout routine in one of his YouTube videos.
ADVERTISING
The article continues below this ad
PewDiePie reveals toughest workout for himself
Felix focuses a lot on keeping his physical body in good shape. Interestingly, there were several memes last year, where fans compared Felix's physical appearance with KSI, who was out of shape at the time. In the video, he says,"Personally, I really like training with dumbbells." Felix also revealed that he only trains in his living room.
He further added, "My training is pretty much the same as before. I've only changed a few things here and there. I think I used to do five days a week. But I've actually gone to four days per week I start like most people with chest.
During the video, Felix mentioned that he considered Leg Day to be the toughest workout for himself. He said, "The thing is, the leg is killing me. This is my shoulder workout. I think it only takes me 45 minutes, but it absolutely destroys me. Like it's a weird thing where while I'm doing it I'm not that tired but as soon as I stop I just need to sit down. Oh my god, nobody likes leg day. If you like leg day, you're lying.
Felix training week
ADVERTISING
The article continues below this ad
| | |
| --- | --- |
| Monday: Chest | Regular bench press, shoulders, abdominals (8 minutes) |
| Tuesday: Leg day | Squats (4sets), Dead-Lift (4sets), Lunges (3sets), Calf Raises |
| Wednesday | Day off |
| Thursday | Pulldowns, biceps, hammer curls, single and double arm rows, overhead extension |
| Friday | Leg day/ Kendo (30-40 minutes) |
| Saturday | Combination of all the above exercises except the legs |
| Sunday | Day off |
PewDiePie also revealed a funny incident in the video. He mentioned, "I was so proud when I hit my new record and then I looked at how good it was. And it basically says like for your middleweight band. And I was like What The F**K! I expected to read like God Mode or Giga Chad.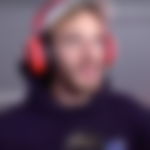 Felix also mentioned that he has been trying to put on more weight recently. What do you think of Felix's new training compared to last year? Let us know in the comments below.
ADVERTISING
The article continues below this ad
WATCH THIS STORY: The toughest video game bosses of all time